Test Credit Cards & Payment Testing
---
Payment Transaction Testing
The Subscribe Pro Payment Vault generally can't be connected to sandbox or test mode payment gateway accounts. The exception to this is when the sandbox/test mode gateway account uses the same set or type of credentials as it's corresponding production gateway account.
To test payment transactions with the Subscribe Pro Payment Vault, configure a Test Gateway (no credentials needed) for your Subscribe Pro Environment and use the test credit cards below. To configure a Test Gateway:
Navigate to System > Payment Gateway Accounts and create a new payment gateway account.
Choose Test Gateway as the gateway type.
Enter a name for your new gateway account.
Save the new gateway account. NOTE: There is no need to enter credentials for a test gateway.
Navigate to System > Configuration. Choose the Payment Settings tab.
Select the newly created test gateway. Save your configuration settings.
Test Credit Cards
This payment information only has special meaning when used with a Test Gateway type gateway; if you use it with a regular gateway it'll be passed through just like any other payment information would be.
When using the test credit cards below, enter any 3 or 4 digits as the CVV code (depending on card type) and enter any expiration date that has not already passed.
The card numbers in the Good Card column will allow successful payment transactions. The card numbers in the Decline/Failed Card column will cause failed transactions.
| Card Type | Good Card | Declined/Failed Card | CVV Code |
| --- | --- | --- | --- |
| Visa | 4111111111111111 | 4012888888881881 | Any 3 Digits |
| MasterCard | 5555555555554444 | 5105105105105100 | Any 3 Digits |
| American Express | 378282246310005 | 371449635398431 | Any 4 Digits |
| Discover | 6011111111111117 | 6011000990139424 | Any 3 Digits |
| Diners Club | 30569309025904 | 30207712915383 | Any 3 Digits |
| JCB | 3569990010030400 | 3528327757705979 | Any 3 Digits |
| Dankort | 5019717010103742 | 5019994000124034 | Any 3 Digits |
| 3D Secure Enrolled | 4556761029983886 | 4024007101934890 | Any 3 Digits |
| Third Party Vault | Any | 4217651111111119 | Any 3 Digits |
Capture / Credit - 44 Cents Transactions
On the test gateway, both the capture operation and the credit operation always succeed unless you use an amount of 44 cents. The test gateway knows that amount and returns a failure in that case to allow you to test your handling of capture and credit failures.
Bank accounts
Test Routing Number: 021000021
All other routing numbers will be considered non-test payment methods
Good Test Account Number: 9876543210
This only works with the test routing number above; all other account numbers will generate a failure when used with the test routing number.
Sandbox Test Transaction Delay
Our Sandbox Test Transaction Delay feature allows you to simulate the timing of a real payment gateway when you are using the Subscribe Pro Test Gateway type inside a Subscribe Pro Sandbox Environment.
You should enable the delay setting and then set a minimum and maximum number of seconds for the delay time. Each transaction will be delayed for a random amount of time somewhere between the minimum and maximum.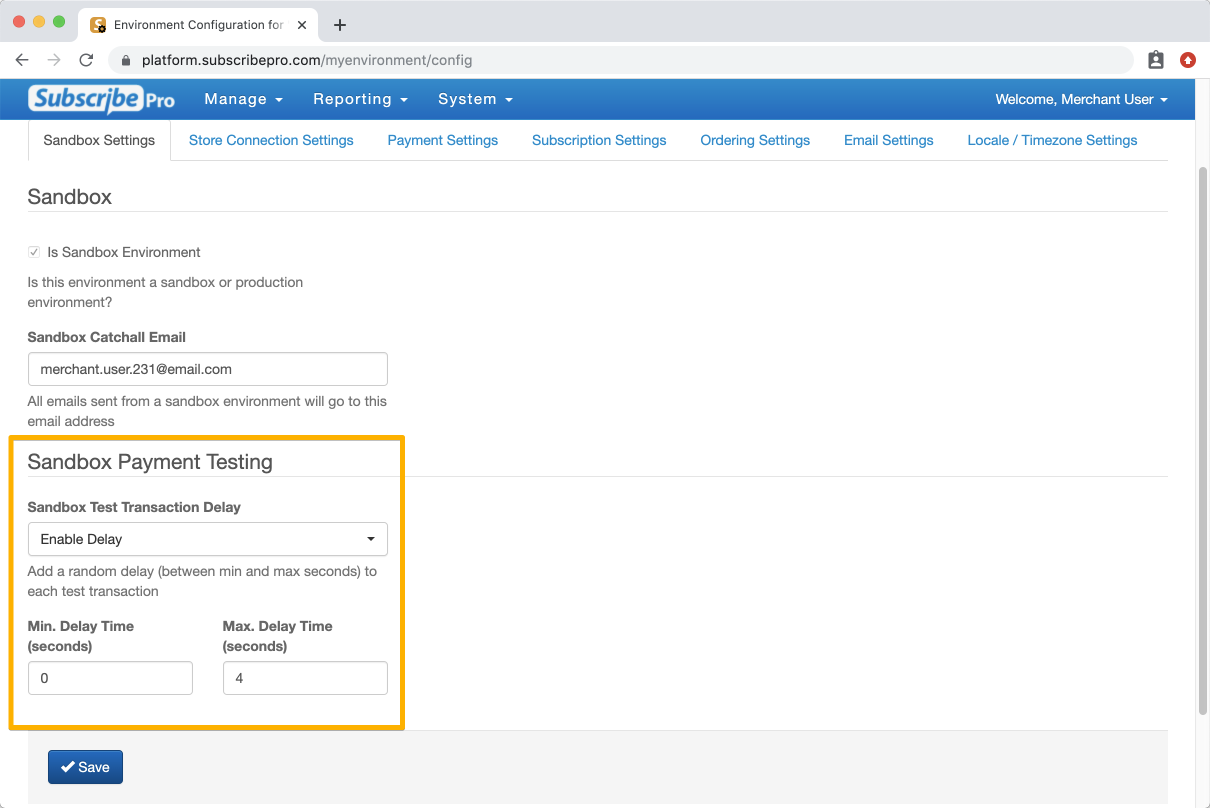 Payment Gateway Sandbox Accounts
Sometimes testing is conducted with a particular gateway's "sandbox". But the real goal of that testing should be to know your integration is working with the real production account, not a gateway's sandbox account.
We strongly recommend you conduct testing with our Test Gateway type instead. It's part of the work we do so that you don't need to write tests for each of the gateways we support. Our goal is for you to test against our Test Gateway and then know that the code you've written should work with any of the production gateways we support.
There are some scenarios that aren't possible to test using the Test Gateway, however. In those cases, it is possible to configure a gateway connection to use Sandbox Mode on the connected gateway integration. This must be done when creating the gateway connection.